Hi everyone! Today I'm excited to participate in the bookstagram & creative blog tour for IPHIGENIA MURPHY by Sara Hosey hosted by MTMC Tours! A novel that explores the sustaining love of friendship, the kindness of strangers, and the indelible bond of family, Iphigenia Murphy captures the gritty side of 1992 Queens, the most diverse borough in New York City. Releasing on March 10th, 2020 from Blackstone Publishing!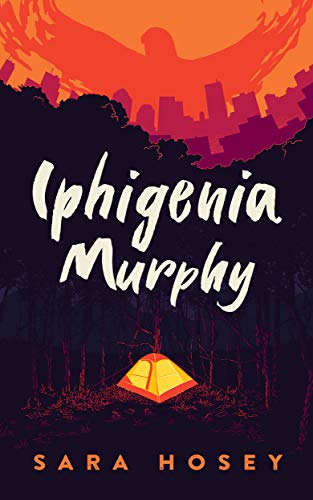 Iphigenia Murphy
by
Sara Hosey
Published by
Blackstone Publishing
on March 10, 2020
Genres:
YA Contemporary
Pages:
272
Format:
Hardcover
Goodreads
Buy on Amazon
|
Book Depository
|
B&N
Source:
Blackstone
,
MTMC Tours
I received this book for free from Blackstone, MTMC Tours in exchange for an honest review. This does not affect my opinion of the book or the content of my review.
Running away from home hasn't solved Iphigenia Murphy's problems. In fact, it's only a matter of time before they'll catch up with her. Iffy is desperate to find her long-lost mother, and, so far, in spite of the need to forage for food and shelter and fend off an unending number of creeps, living in Queens' Forest Park has felt safer than living at home. But as the summer days get shorter, it all threatens to fall apart.
A novel that explores the sustaining love of friendship, the kindness of strangers, and the indelible bond of family, Iphigenia Murphy captures the gritty side of 1992 Queens, the most diverse borough in New York City. Just like Iffy, the friends she makes in the park--Angel, a stray dog with the most ridiculous tail; Corinne, a young trans woman who is escaping her own abusive situation; and Anthony, a former foster kid from upstate whose parents are addicts--each seek a place where they feel at home. Whether fate or coincidence has brought them together, within this community of misfits Iffy can finally be herself, but she still has to face the effects of abandonment and abuse--and the possibility that she may be pregnant. During what turns out to be a remarkable journey to find her mother, will Iffy ultimately discover herself?
…The Reader's Review…



Oh my heart. Iphigenia Murphy is a heart-breaking tale about abandonment, abuse, homelessness and survival. I was not prepared for this emotionally raw journey, but I am glad I did get to experience Iphigenia Murphy because it's such a great read. It made me tear up and feel anger (so much anger), but also so much love and fierce protectiveness over the characters. ♥
Iphigenia Murphy is the book's title AND the main character's name, and it fits perfectly because this novel is truly character-centric. The characters ARE the highlight of this book. Starting off with Iphigenia, I must say that I truly loved and felt for her. She's brave and courageous, but most of the times she's scared and incredibly lonely, which made my heart weep even more. Reading about her struggles constantly made me want to jump inside the book to help her out. After being abandoned my her mother, ignored/blamed by her father and stepmother, not to mention abused by her stepbrother; she decides she can't take it no longer and is better off finding shelter in the park while seeking out her mother. It's then that she starts to meet other characters with their own abusive relationships or struggles and she forms precious new bonds that, while they don't fix her problems, it sure helps her struggling lonely heart.
Here is where I must also mention my love for Corinne (a trans woman escaping her own abusive relationship) & Angel, the dog. The moment we meet Corinne and Angel my heart began to breathe a bit easier since Iffy is so lonely at first, navigating life at the park while looking for the whereabouts of her mom. Living in the outside world is dangerous, particularly for a young girl, and I just love how Iffy, Corinne, and Angel find companionship with each other. And eventually, Anthony who is a character that later comes into their lives and is also precious!
But as I mentioned before, this book is raw. It's not a happy story and there are no easy answers. It portrays homelessness, abandonment, domestic violence and emotional abuse. Rape and abortion for rape survivors. It was heartbreaking to read about it, but also important. However, Iphigenia Murphy DOES highlight the kindness of people amidst the nastiness of others, and how important it is to believe and support victims of sexual abuse.
Make sure to add Iphigenia Murphy to your TBR!
…Iphigenia Playlist…

Iphigenia LOVES music, and while creating my own playlist, I stumbled with the author's original Iphigenia Murphy playlist!!! I love these and thought to create a graphic for sharing!
INTL Tour-Wide Giveaway!
Head over to my Instagram account where ONE reader will win:
A hardcover copy of IPHIGENIA MURPHY!
(And don't miss out the rest of the tour stops to get more chances to win!!!)
Tour Schedule:
February 17
@thereaderandthechef – Bookstagram + Blog
February 18
@timeladyreads – Bookstagram
February 19
@ernest.bookingway – Bookstagram + Blog
February 20
@lajathereader – Bookstagram 
February 21
@paperfury – Bookstagram + Blog
February 22
@tata.lifepages – Bookstagram
February 23
@paperbacksandpen – Bookstagram + Blog
February 24
@anovelescape – Bookstagram
February 25
@afictionreality – Bookstagram + Blog
February 26
@shobizreads – Bookstagram
Hosted by:
Related Posts